Flora Wood
Paintings by Flora Wood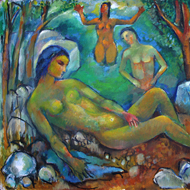 FLORA WOOD 1908-1998
A painter and sculptor, born in Portobello, Edinburgh, into a musical family, Flora Wood lived in Scotland.
She studied in Florence followed by a period in Paris in the studio of Andre L'Hote and travelling in Italy.
Further study followed at Edinburgh College of Art under Sir William Gillies and John Maxwell. She was awarded the Lily McDougall Award for Sculpture and also won the Lauder Award for painting.
Her work is strongly three-dimensional and is vigorous and exciting – influenced through a friendship with Picasso. Sculpture absorbed an increasing amount of her creative energy and she was a frequent visitor to Glasgow's refuse tips, from where she would return with the most unlikely of materials including bicycle wheels, chains, iron bolts and metal fragments. These she would fuse into abstract and animal forms. She said 'My work tends toward the geometric rather than organic. I am never completely abstract. I have always been inclined to the figurative. I think that only with true knowledge of the human form and drawing can one allow one's self to exaggerate and distort.'
Andelli Art have seven Flora Wood paintings for sale