Ronald Ossory Dunlop
Paintings by Ronald Ossory Dunlop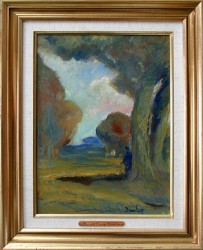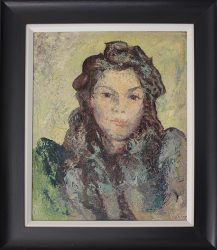 Ronald Ossory Dunlop 1894-1973
Ronald Ossory Dunlop was born in Dublin to a Scottish-Irish Quaker family. He studied at Manchester School of Art, at Wimbledon College of Art and in Paris, having spent some time working in an advertising agency. He became a prolific exhibitor, venues including the Royal Academy, the New English Art Club, Leicester and Redfern Galleries, the Royal Society of Arts, the Royal Hibernian Academy and the Royal Glasgow Institute of the Fine Arts.
His first one man show (1928) was at the Redfern Gallery in Cork Street, London. In 1923 he had founded the Emotionist Group of writers and artists, and his own work is characterised by a painterly exuberance. He joined the The London Group of artists in 1931.
Most of his life was spent in England, latterly at Barnham, West Sussex, close to Chichester. He achieved fame in his lifetime, having been elected a full member of the Royal Academy in 1950, and his work is instantly recognisable, as are the many fakes which have appeared on the market over the past thirty years or so! Alex Fraser of Vancouver was Dunlop's dealer in London and again later in Canada once Fraser had emigrated in the 1940s.
Dunlop's mother, Eleanor (née Fitzpatrick) was herself a watercolour artist. His father Daniel Nicol Dunlop (1868–1935), was a great friend of W. B. Yeats, James Stephens and George Russell.Artist Ronald Ossory Dunlop's paintings can be seen at the Crawford Gallery in Cork, at the Tate Gallery in London, at the Cheltenham Art Gallery and Museum and the National Portrait Gallery, London.
Andelli Art have for sale these two paintings by Ronald Ossory Dunlop