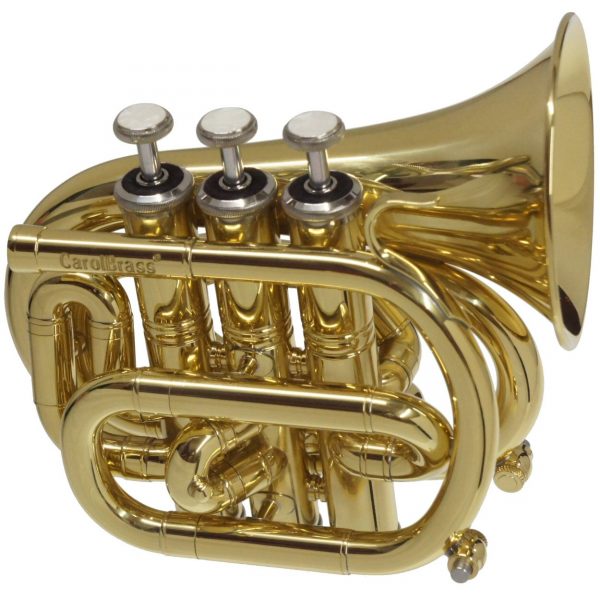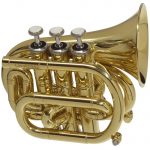 CarolBrass CPT-1000-YSS-C-L Mini Pocket Trumpet in C
£365.00
Mini pocket trumpet in C
Probably the smallest playable C trumpet in the world!
Super small bell
Stainless steel valves
Lacquer finish
Description
Additional information
Reviews (0)
Description
CarolBrass CPT-1000-YSS-C-L Mini Pocket Trumpet in C
Measuring just 6.8″ the CarolBrass CPT-1000-YSS-C-L Mini Pocket Trumpet in C is probably the smallest playable C trumpet in production. The mini pocket trumpet has a specially designed small yellow brass bell and light weight construction. This is the ideal travel trumpet for those times when space is at a premium. The CPT-1000 features the same stainless steel valves as the rest of the CarolBrass line. Also available in Bb.
Model: CPT-1000 -YSS
Key:      C
Finish: Lacquer (other finishes available on request)
Bore:   ML 0.460″ (11.70mm)
Bell Material: Yellow brass
Bell Size: Super small
Tuning Slide: Yellow brass
Build you own specification of CarolBrass Pocket Trumpet at Carol Custom Brass
Outfit includes:
Gig bag
7C plastic mouthpiece
Valve oil
About CarolBrass:
Handcrafted in Chiayi, Taiwan, CarolBrass instruments offer exceptional value for money for all players from beginners to seasoned pros. All CarolBrass trumpets cornets and flugel horns feature the same high quality stainless steel valves (also used by many custom manufacturers throughout the world) ensuring years of trouble-free playing. There are two series of CarolBrass instruments: Standard Series and Custom Series.
Standard Series: Includes all levels of instrument from beginner (1xxx) to professional (5/6xxx). These are standard configurations based on CarolBrass' experience. For details please refer to Standard Series Model Numbering You can also customise the Standard Series models: Standard Series Custom Options
Custom Series: With the Custom Series the player can choose their own specification making use of different materials (such as yellow brass, gold brass, red brass, bronze and sterling silver, etc.), bell size and weight, leadpipe design – the permutations are almost endless! Some examples of the Custom Series can be seen here: Custom Series models For a full list of options please see the links below:
Additional information
| | |
| --- | --- |
| Weight | 5 kg |
| Finish | Lacquer |